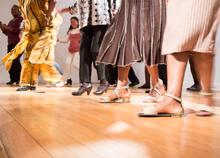 Thursday, March 30th, 11:00am to 3:00pm
The Bronx Museum of the Arts cordially invites guests 55 and older to the Summer Senior Luncheon. Join us for a delightful afternoon with free tours of the Museum's exhibitions, live entertainment by Just Nuts, and lunch with friends, all free of charge.
This event is SOLD OUT. To RSVP for the waitlist email info@bronxmuseum.org or 718-681-6000, ext. 135.

Produced in collaboration with Jay Mac Productions.

Public Programs are made possible by the Institute of Museum and Library Services and the Mertz Gilmore Foundation. Senior Programs are generously supported by The Malka Fund and City Council Member Vanessa L. Gibson.