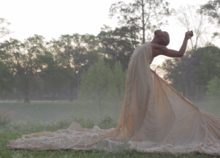 Friday, May 5th, 6:00pm to 10:00pm
First Fridays
Co-Lab is an interdisciplinary residency program intended to deepen local exposure to dance, celebrate the borough's rich legacy with choreography, and foster connections to up-and-coming Bronx talent. The first BxMA Co-Lab dance resident Jasmine Hearn and visual artist Kameelah Rasheed will showcase their collaborative project from this inaugural six-month residency.
Free tours of the galleries from 6:00pm to 8:00pm
Children's activity table from 6:00pm to 8:00pm
Free admission and cash bar
BxMA Co-Lab and First Fridays! Dance are generously supported by the Mertz Gilmore Foundation.