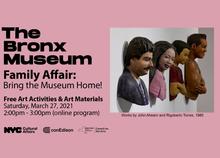 Saturday, March 27, 2021 | 2:00 - 3:00PM
Join us for an afternoon of art making you can do from your home, inspired by the Bronx Museum's current exhibitions! You must register HERE to attend. We will send a link and password to enter this on line event to all registered families.
FREE recommended art materials will also be available for pickup during the museum's open hours Wednesday 3/24, Thursday 3/25, and Friday 3/26. You must reserve free tickets to visit and pick up materials -- more information HERE.
Family Affair is a free family program recommended for children ages 12 & under with their parents or guardians.