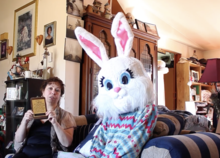 Wednesday, December 15, 2021 | 6:00 - 7:00 PM
Intimacy in Crisis is a series of five short videos by participants in Bronx Calling: The Fifth AIM Biennial. The artists react and reflect in the face of crisis, sparking questions around the self, our intimacies, and coexisting with family and society.
Please register HERE to attend this free event.