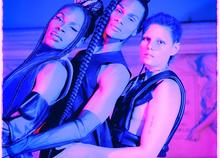 Sunday, October 24, 2021 | 2:00 - 3:00 PM (new date)
In conjunction with the exhibition, Wardell Milan: Amerika. God Bless You If It's Good to You, a series of performances collaboratively conceived by the artist and choreographed by Zachary Tye Richardson will engage a set of sculptures designed and fabricated by artist and designer Billy Ray Morgan for the exhibition. Titled 5 Indices on a Tortured Body, this performance series is presented in five acts taking place throughout the duration of the exhibition: The Black Male Body, The Female Body, The Trans Body, The Migrant Body, and the Quarantine Body.
Please register HERE for this free event.