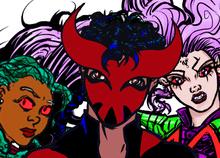 Every Saturday, May 18 through June 22, 2019, 1:00PM
A Spring series of Cartooning/Manga classes designed for the committed teen artist/writer that is interested in telling stories in different media. We focus on the dark terrifying side of Bronx mythology and legends and create short dynamic stories in manga and film forms. Free supplies provided, guest pro speakers, and all the monsters you can handle... and then some. For more information or to register email comicculturex@gmail.com or call 347-427-7553.
Pass on Phase One automatically gets you into Phase Two.