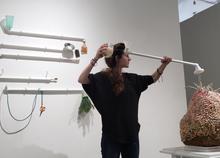 Saturday, December 11, 2021 | 2:00 - 3:00 PM
On the Upkeep of Demanding Shapes explores the symbiotic relationships between the self, the maker, and the made. What are our responsibilities towards that which we create? How do our strategies of wellbeing effect the state of the objects we choose to put out into the world? How can we remain aware, informed, and open to influences in our environment, while retaining a sense of groundedness and sanity? When is distraction valuable and necessary vs. destructive and unproductive?
Please click HERE to register for free.