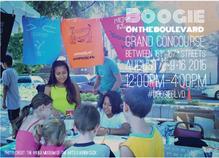 Sundays, August 2, 2015, 12:00pm to 4:00pm
Get ready for Boogie on the Boulevard! On August 2nd, 9th, and 16th, the center lanes of the Grand Concourse from 161st Street to 167th Street will be closed to cars and open to a world of fun with free music, activities, and programs hosted by organizations from the Bronx and beyond, as well as local artists and performers.
Check back soon for more information!