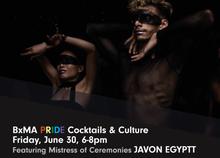 Friday, June 30, 6:00pm to 8:00pm
Celebrate your LGBTQ Pride with the Bronx Museum of the Arts on Friday, June 30 from 6-8 pm. Join Mistress of Ceremonies and House of LaBeija Showgirl extraordinaire Javon Egyptt for an evening of live spectacular performances by Jasmin van Wales, Patti Cake, House of Ninja dancers Slim Ninja and Mayu Oguri Ninja along with music by DJ Mando. Free admission and XM Café cash bar.

This event was made possible thanks to generous support of the HUB Third Avenue Business Improvement District, (BID).