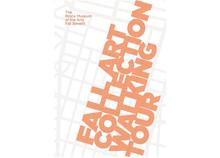 Saturday, November 1, 2014, 9:00am to 2:30pm
Join us at the Museum's Fall Benefit for a unique opportunity to tour private art collections at five stunning homes.

A light breakfast will kick off the day, followed by a walking tour to the collections of some of Greenwich Village and NoHo's most renowned art collectors. The collection hosts, who will be welcoming and guiding each tour, include: Frederieke Taylor, Joel and Zöe Dictrow, Greg Miller and Michael Wiener, Ann Hatch, and Hilary and Peter Hatch. The tour will be followed by an optional lunch and viewing of the collection of James Cottrell and Joe Lovett.